Lately, the CR-Z has been getting quite a bit of attention since it's a hybrid with sporting pretensions. It's certainly a step ahead of the Prius. However, one of the first hybrid cars recently caught my attention. Way back in 2001 Toyota decided to produce a hybrid version of the Crown Royal (no, seriously, that's the name of the car). Far from the stodgy 1NZ series found in the Prius, Toyota used what may be the most advanced normally aspirated version of the venerable 2JZ series, the 2JZ-FSE.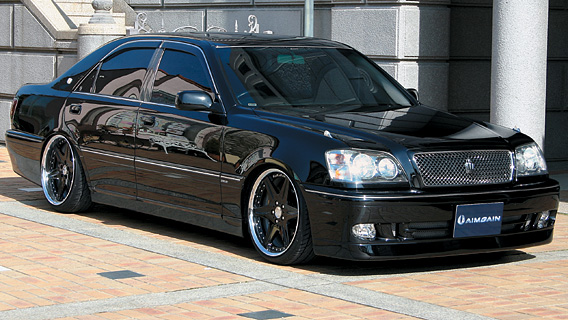 I must admit that even I had to dig a little deeper when I saw that engine code. A quick search reveals this engine featured direct-injection (remember we're talking about 2001!) and an extremely high compression ratio for a car designed to run on pump gas. Between this and a mild hybrid system resulted in the car being rated at 27mpg city despite a curb weight over 4000lbs.
This is all impressive enough, but the engine is still only rated for 217hp. This might be adequate for cruising in the Royal, but is hardly an inspiring figure. However, what if this engine were to find its way into an MkIV Supra, IS300 or even a Silvia. It wouldn't be breaking any ground to fit one of these engines in one of those chassis as the block is very familiar, but imagine a lightweight dual-purpose drift/daily S13 that gets Yaris-esque mileage on the way to the track, offset any emissions that may have been avoided with big white clouds of tire smoke and then proceed to commute for the next week on the same tank of gas. Now that's a hybrid in every sense of the word!
Tuning this engine would require a herculean effort and you'd do well to pick up some textbooks on combustion theory while you're at it, but there's really no need to. The stock the engine produces an effortless 217lb-ft of torque at only 3600rpm and that's more than enough to put a lightweight car sideways in a hurry.